Another year, another review. I'll mostly stick to the format of last year's review and present to you my own "best of" lists.
Movies
This year, I started tracking the movies I've watched: 33 movies in 2018 (but only 14 of them were from 2018).
My favorite movie of 2018 is Avengers: Infinity War! Yes, yes, sounds like an easy choice but I actually watched it twice in the cinema and it became one of my favorite movies of all time. I'm absolutely looking forward to Avengers: Endgame next year!!
Interestingly, there were a lot of sequels this year: Deadpool 2, Jurassic World: Fallen Kingdom (second Jurassic World), Ant-Man and the Wasp (second Ant-Man), The Equalizer 2, Sicario 2, Incredibles 2, Fantastic Beasts: The Crimes of Grindelwald (second Fantastic Beasts).

I was quite excited to watch Ready Player One because I've read the book, which I liked very much, many years ago (I rarely read books

) but the movie is "okay".

TV Shows
My favorite new(!) TV show of 2018 is Maniac. It's actually a mini-series but whatever.

Netflix delivers once again.
I don't have runner-ups this year, nothing new really stood out. If you like to watch documentaries, I can recommend Vitamania and Big Cats.
Ongoing shows like Legion, Westworld, Better Call Saul, and Daredevil had very strong seasons this year.

I'm looking forward to the series finale of Game of Thrones next year!

YouTube
My favorite YouTube video of 2018 is Rusty Deadlocked Vice - Perfect Restoration by my mechanics.
Since YouTube doesn't have a subscription history, I created a list on my own since my last year's review. This year, I've subscribed to these channels: Gus Johnson, videogamedunkey, Steve Schoger, DoodleChaos, PaymoneyWubby, my mechanics, and Jablinski Games.
I'm not so sure about the last one yet because I just got hooked by the hype. We'll see if it's a shitty channel or not. Other than that, I'm quite happy with the content of the channels I've subscribed to this year.
Games
My favorite game of 2018 is Pokémon: Let's Go. I haven't played a game so intensely without getting stressed or bored for a very long time. Nostalgia hit me hard.
Runner-ups are Captain Toad: Treasure Tracker and Super Smash Bros. Ultimate. As you can see, I'm still a big fan of Nintendo Switch and its games.
Oh well, maybe it's worth mentioning that I also enjoyed playing Minit this year.
Music
Most of the time, I'm listening to the songs that I like from Discover Weekly on Spotify. You can listen to my top 100 songs of 2018 in this Spotify playlist. This year I really enjoyed Earth Past by Flite, The Silence by Grafton Primary, Heartbeat (feat. Basile Di Manski) by Data, The Moment - Instrumental by Mad Blade Beats, and Hazy by Thought Beings.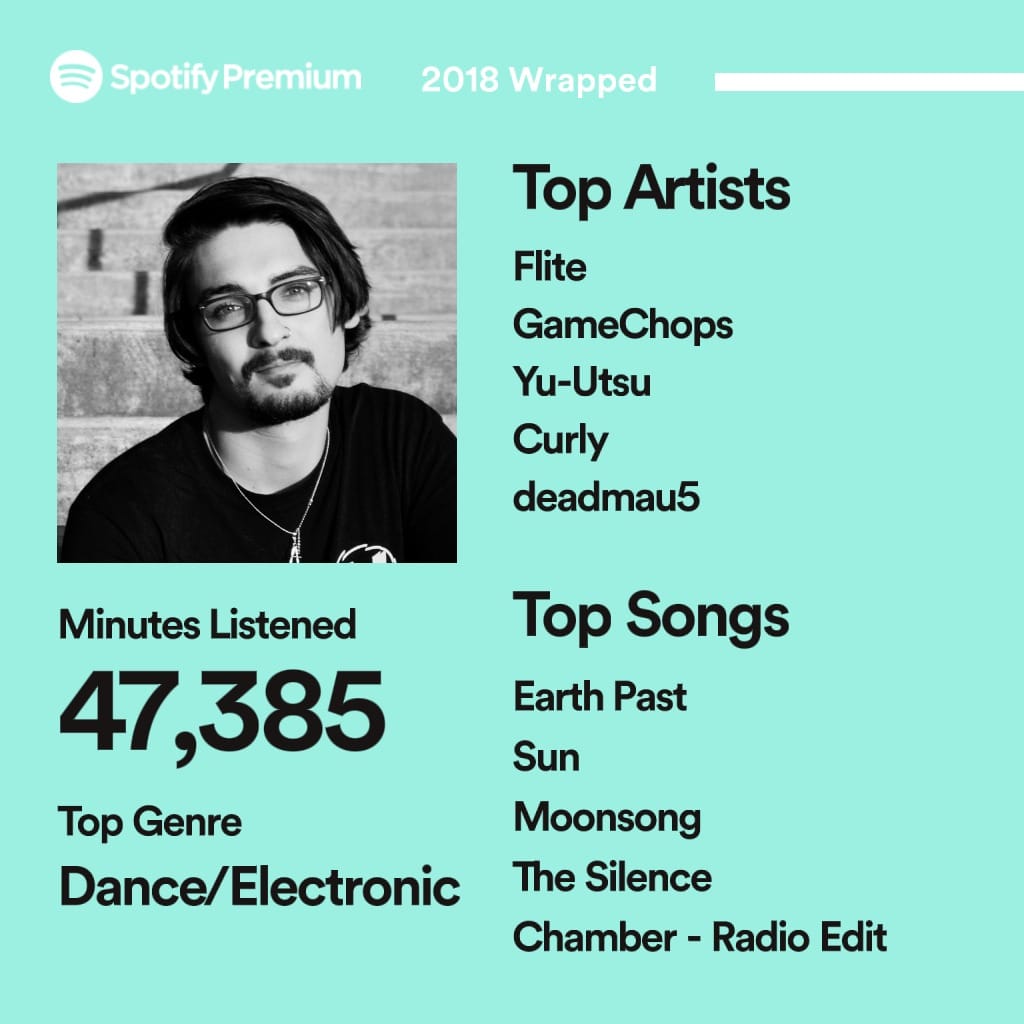 I noticed that I don't even look at the artist's names anymore. I was actually very surprised who Flite was while writing this blog post. And it looks like that I listened 5,670 more minutes to music on Spotify than last year.